Photo by Kelly Donaldson/Jackson County Chamber of Commerce
A village of shops, crafters, family restaurants and diverse festivals, Dillsboro has always been a center of railway activity. During the 1880s when the Western North Carolina Railroad was built, the village was named after its postmaster, William Allen Dills. Dills was responsible for building the Riverwood Shops, which overlook the Tuckaseigee River, and what later became known as the C.J. Harris House. Harris is the namesake of Harris Regional Hospital in Sylva.
Dills' own home stood next to the Mt. Beulah Hotel — constructed in 1884 and today known as the former site of the now closed Jarrett House. By 1888, Dillsboro had become the most important town along the railroad in terms of industry, with two sawmills, two clay mines, two livery stables, six general stores, a shoemaker and several wood yards.
Nowadays, Dillsboro is proud to host annual festivals including the Front Street Arts and Crafts Show, the Summer Arts and Crafts Market, ColorFest, the WNC Pottery Festival, Lights and Luminaries, and an Easter Hat parade, just to name a few.
The popular Great Smoky Mountains Railroad makes a stop in Dillsboro throughout the busy spring, summer and fall months.
Dillsboro's central location is just minutes away from Western North Carolina's premier attractions and activities — the Great Smoky Mountains National Park, the Cherokee Indian Reservation, the Nantahala River and the South's most scenic mountains, rivers and waterfalls.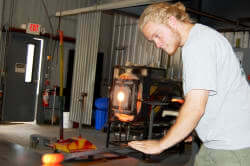 Dillsboro has retained its small town charm through its historic buildings, antique stores, vintage shops and quality crafts, while embracing new businesses such as the popular Innovation Station in Dillsboro, Forager's Canteen, Kostas and Haywood Smokehouse, just to name a few.
The way to experience Dillsboro is on foot, strolling from shop to shop. Along the way, you may wander into an artisan's studio to watch the creation of one-of-a-kind, hand-made works of fibers, clay, glass, metal or precious gems.
Dillsboro is a Mountain Trout Heritage City and its WNC Pottery Festival was named a Southeastern Tourism Society Top 20 Event. New restaurants and a brewery have recently opened in the growing town. The 1993 blockbuster "The Fugitive," was filmed here, as was the award-winning "Three Billboards Outside Ebbing, Missouri."
Many gift shops and galleries focus on local artisans; and some are working artisan's studios where visitors can watch work in progress and talk to the artisans.
Dillsboro is in the middle of it all, just minutes from such attractions as:
Blue Ridge Parkway
Cherokee Indian Reservation with the Oconoluftee Indian Village, "Unto These Hills" Outdoor Drama, and Harrah's Cherokee Casino.
Great Smoky Mountains National Park
Oconaluftee Historic Farmstead and Village
Western Carolina University
There is plenty of whitewater rafting on the Class 1 & 2 Tuckaseigee River, canoeing, tubing and fishing opportunities as well as gem mining, horseback riding and pretty country roads for great scenic drives.
Dillsboro is less than an hour from the Biltmore Estate in Asheville; and it's an easy drive to visit the Cradle of Forestry in America, Flat Rock or Cashiers and Highlands.
Dillsboro is also home to the Jackson County Green Energy Park (JCGEP) which utilizes clean, renewable energy resources to encourage economic development, provide environmental protection, and offer educational opportunities. The JCGEP captures methane gas from the old town landfill, then uses the gas as fuel for a series of artisan studios. Artists specialize in glass, blacksmithing/metal, ceramics, and more. JCGEP hosts a gallery, guided tours, a sculpture garden and Youth Arts Festival.