The Chamber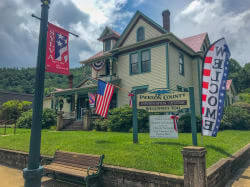 The Jackson County Chamber is committed to improving the quality of life and welfare of the citizens of the Jackson County by promoting a prosperous and diverse business community that compliments the region's natural beauty, through an engaged active Center providing exemplary guest services for new residents, members, and visitors.
The Jackson County Chamber of Commerce is headquartered in the historic Hooper House at 773 West Main Street in downtown Sylva. The Hooper House, built in 1905, was completely restored in 2002 and is listed on the National Register of Historical Places. The Hooper House is also home to the Jackson County Visitor Center, Explore North Carolina room, and Destination Cherokee Gallery. The Chamber offers a variety of thoughtfully branded souvenir and gift items representing the area.
The Chamber office:
Is open Monday through Friday from 9 a.m. to 5 p.m. and select Saturdays from 10 a.m. to 2 p.m., No Sunday hours. The office is closed on the following observed holidays: New Year's Day, Memorial Day, July 4, Labor Day, Thanksgiving, Christmas Eve, Christmas Day and select days during the holiday season. 
The Chamber and Tourism Development Authority also operate a second seasonal visitor center in Dillsboro from May through October, as well as stocking three visitor kiosks each week.
800-962-1911
Join the Chamber  |  Membership Directory  |  Membership Login |  Code of Conduct
There are numerous reasons and benefits to chamber membership. Read 30 amazing reasons why here!
For six more reasons to join the chamber. Click here.
**Any person, association, corporation, partnership or estate having an interest in the objectives of the organization shall be eligible to apply for membership. Applications are subject to review by the membership committee and/or the board.
Join the Chamber
Download our CHAMBER MEMBERSHIP APPLICATION, which details all the benefits of being a member!"
---
Membership Benefits
Jackson County Chamber of Commerce members benefit from the following services:
A free listing in the annual Jackson County Chamber of Commerce Membership Directory and Community Magazine, Our Town. The guide is available online at www.mountainlovers.com and is mailed out to all potential new residents and distributed from our office to all members and interested visitors. Members may purchase advertising in this publication, independent of their free listing. Restaurant members receive a FREE listing in the directory of the annual Eating Out in Jackson County dining guide. This is distributed to anyone visiting our office and is available online HERE, in kiosks and other locations in Jackson County.
The benefits of our members-only referral program. We provide our members with a Member Benefits report, showing statistical data and quantifiable leads from our site to your site. We also serve as the Jackson County Visitor Center, where thousands of visitors and newcomers to the county are greeted and serviced each year. Your promotional materials would be available for disbursal in our Chamber office, Visitor Center and five external kiosks. 
A free listing on the Chamber of Commerce website, www.mountainlovers.com, FREE link to your web page, FREE link to your Facebook page.
The opportunity to display brochures and literature in our Visitor Centers and kiosks, with exposure to more than 35,000 visitors annually.  
An ability to post "Hot Deal" coupons on our website, list job opportunities, market your new or gently used business items on our MarketSpace page, and list your major events on our website calendar of events. 
Inclusion in our Facebook page "Like" section to increase your Facebook following, as well as a new member "shout out." We have a very healthy following on our social media networks of Facebook & Twitter. 
Ribbon-cutting/Grand Opening ceremonies, Relocation packages and Grand Opening banners are available to new or expanding businesses along with several services provided by the Chamber Ambassadors Club (some geographical restrictions apply on grand openings.) Click HERE for ribbon cutting and grand opening options or click HERE for relocation options.
The Chamber has endowed two scholarships at WCU and SCC. Preferences will be given to candidates closely affiliated with the Chamber, as well as meeting other requirements.
Chamber members can reserve and utilize the conference room at Chamber headquarters for projects and business meetings.
Opportunity to partner with the Chamber and market your business at premier events such as Concerts on the Creek, July 4 festivities, attended by thousands of people each year. 
Exposure through our monthly e-mail "This Month in Jackson County," featuring all upcoming calendar events posted by Chamber members. 
Join the Chamber Now! Download our Chamber Membership Application, which details all the benefits of being a member!"
**Any person, association, corporation, partnership or estate having an interest in the objectives of the organization shall be eligible to apply for membership. Applications are subject to review by the membership committee and/or the board.
Jackson County Tourism Development Authority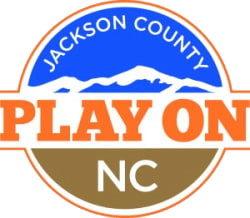 The Chamber partners with the Jackson County Tourism Development Authority (www.DiscoverJacksonNC.com) to carry out the daily program of work, responding to all tourism-related inquiries and fulfilling other aspects of the TDA's responsibilities. We work cooperatively with the TDA to increase the number of visitors to our county, while encouraging local awareness of the economic impact of tourism. 
The Tourism Development Authority Board of Directors meet on the third Wednesdays of most months at 1 p.m. The complete meeting schedule and locations is available online at www.JacksonCountyTDA.com. If you wish to be on the Tourism Authority agenda, please contact Executive Director Nick Breedlove at director@discoverjacksonnc.com, 828-339-1160, at least 15 days in advance. Meeting location and dates subject to change. For all tourism related advertising opportunities, questions, grant information, and general correspondence about tourism activities - please contact Director Breedlove, 828-339-1160. Correspondence may be mailed to Jackson County TDA, 116 Central Street, Sylva, NC 28779.
Welcome to Jackson County!
We are so grateful you have chosen to visit this website. By doing so, you have taken the initial step toward acquainting yourself with Jackson County, N.C. We appreciate your interest in this beautiful place we proudly call home.
On this website, you will find everything necessary to plan a memorable extended stay or quick weekend getaway. Who knows? You might even want to stay and establish some new roots!
We are proud of Jackson County and its numerous fun-filled events, majestic places to visit, over 400 professional member businesses and incredibly talented, interesting and friendly citizens to encounter.
The chamber is the lead producer of the Concerts on the Creek summer music series, now in its 13th season! The July 4 fireworks festivities in Sylva are produced by the chamber for the last five years, and we are a strong supporter of shopping locally consistently. We are honored to provide two scholarships each year to Western Carolina University and Southwestern Community College. The chamber funds a Community Grant Program that has given back more than $144,000 to deserving non-profit organizations in Jackson County since its inception. We host monthly S.T.I.R. Business After Hours events, the popular Chamber Challenge Golf Tournament, and we are the founders of the WNC Fly Fishing Trail. We host the annual Hook, Line and Drinker Festival, which celebrates Jackson County as being the Trout Capital of N.C.
So grab a cup of coffee and click through these pages to learn more about this amazing place. Click HERE to read our 17th annual Our Town publication, which is a great community and relocation guide, as well as our membership directory.

Sincerely,
Julie S. Donaldson
Executive Director
Jackson County Chamber of Commerce and Visitor Center