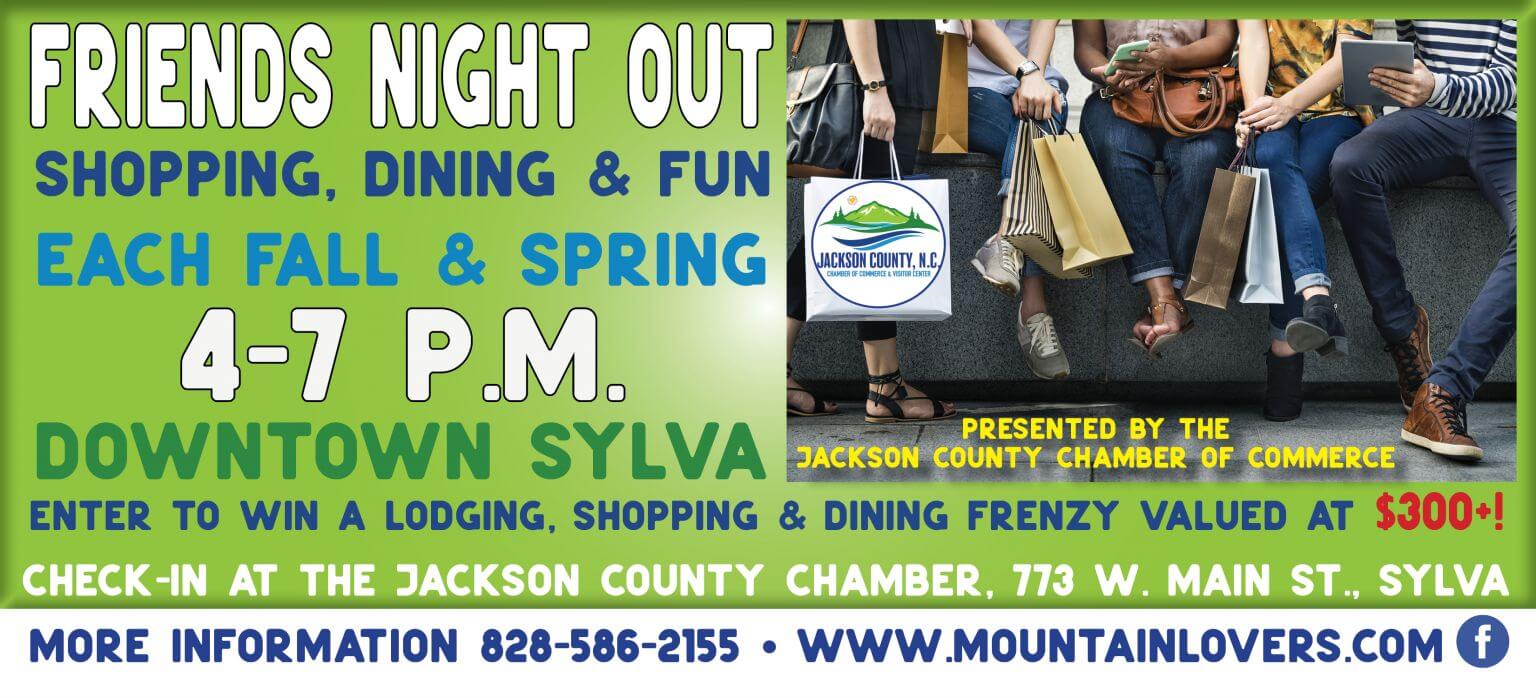 The Jackson County Chamber of Commerce will hold its second "Friends Night Out," event from 4-7 p.m. on Thursday, Nov. 3 in downtown Sylva.
The event is intended to create an economic impact on the area and encourage sales on an evening during a traditionally slower time of the year.
"Friends" simply stop by the chamber at 773 West Main Street in Sylva and register. There is no cost to participate. The first 100 participants that register will receive a free Jackson County Ale Trail pint glass, courtesy of the Jackson County Tourism Development Authority. After registering, "friends" are encouraged to start shopping, dining and perusing the streets of Sylva for great deals. Most stores will have special promotions, sales and perhaps even some surprise treats.
"At the end of the night, we'll do a drawing from those who registered and one lucky participant will win a shopping, dining and lodging frenzy worth over $300," said Jackson County Chamber of Commerce Assistant Director Kelly Donaldson. "The frenzy includes many gift certificates donated by our participating merchants and restaurants."
Those businesses participating are:
Blue Ridge Inn
Betty Bloom's
Mountain Fairy Hair
Scentsy by Stevie Bradley
Southbound Mobile Boutique
Fusions Spa
Southern and Sunkissed
B&B Gifts
Farmhouse Gifts
Jackson General Store
Friends of the Library
City Lights Bookstore
Baxley's Chocolates
Balsam Falls Brewing
Innovation Brewing
Treasures Unknown
Krismart Fashions
Mad Batter Kitchen
The Cut Cocktail Lounge
Black Balsam
Ilda
The Wine Bar
Guadalupe Café
Local businesses without a brick-and-mortar facility will be set up on the chamber's front lawn/porch.
"We also have a busy weekend ahead with the WNC Pottery Festival (Nov. 5) and it is Homecoming weekend at WCU, so we hope to inspire guests and locals to start their weekend early and mark a few things off their holiday gift list," said Jackson County Chamber of Commerce Executive Director Julie Donaldson. "This is a great way to enjoy a wonderful evening out with your friends while supporting our local businesses."
"There is no charge to attend so please come and take advantage of some awesome deals, enjoy dinner at a fun place, and make some memories with your friends," added chamber Office Manager Belinda Bryson.
The first Friends Night Out event was held on March 31, 2022 with 22 businesses participating. A total of 121 "friends" came by the chamber and officially registered. That evening, 191 individual purchases were made at the 22 participating businesses. About 33% of the friends were from outside Jackson County, including Asheville, Hendersonville, Clayton Ga., Athens Ga., Franklin, and Waynesville.
For more information, contact the Jackson County Chamber of Commerce at 828-586-2155.