The Jackson County Chamber of Commerce &
Visitor Center Staff
Julie is the Executive Director of the Chamber, and has been the amazing leader of the Chamber Team since 1999. Her enthusiasm for the area is contagious, and she and the Chamber Team produce quality events for guests and locals to enjoy, while supporting the local community. Julie is a co-founder of the WNC Fly Fishing Trail, Concerts on the Creek, the Hook, Line & Drinker Festival, July 4 Festivities (since 2015) and worked to establish Jackson County as the NC Trout Capital.  She has also served as a pivotal member of many local, regional and state boards and committees including the Jackson County Tourism Development Authority and Main Street Sylva Association. Julie is a full-time team member and responsible for all chamber and visitor center operations.
Kelly is the Assistant Chamber Director, and has been providing stellar member and guest service since 2014. Kelly helps coordinate team efforts for all the Chamber's award-winning printed and online publications, website & social media engagement. He is the co-producer of all Chamber events including the July 4 Festivities, Concerts on the Creek and the Hook, Line & Drinker Festival and works tirelessly to market the area and our chamber members. Kelly has served on several local boards and committees over the years, including Greening Up the Mountains and the Town of Webster. Kelly is an experienced photographer, graphic designer, editor, writer, and a valuable full-time team member.
Belinda is the chamber's Office Manager and became a full-time staff member in 2022. Belinda is a terrific addition to the Chamber Team and works daily to promote members and the community through positive engagement with guests. Belinda is the primary leader for recruitment, retention, billing and guest services. Belinda is also responsible for implementing new and improved merchandise. Belinda brings a wealth of knowledge about the area to our chamber that will be valuable to us as a staff, as well as our chamber members and visitors. We're so lucky to have someone on board with her expertise regarding small business training and coaching, as well as providing local resources and connections.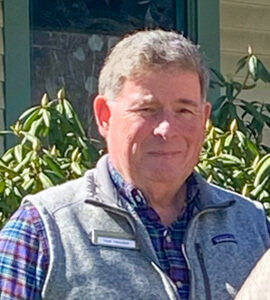 Tom Frazier
Tom has worked part-time with the Chamber since 2021, joining our team after a stellar career at Western Carolina University. After his retirement from WCU, Tom has worked with us to provide valuable information to locals and guests, as well as input and assistance with graphic design, photography and printing. He also provides our direct-line contact with Santa Claus during the holidays!
The Chamber Ambassadors are highly visible, prestigious volunteers who serve as our primary liaison to new chamber members.  Considered the goodwill arm of the Chamber, the Ambassador Team plays an essential role in member communication and retention, and each Ambassador is charged with conveying member needs, questions and concerns to Chamber staff, and keeping our Chamber in line with our members' desires. Upon their appointment, each Ambassador makes a commitment to build lasting relationships with the Chamber membership, particularly new members, in order to build a loyal, committed membership base that will continue to support, participate in and invest in the Chamber.
Ambassadors actively promote membership in the Chamber, facilitate networking among members and encourage meaningful participation and involvement in Chamber programs in order to enhance the membership benefits received by each member, strengthen member commitment and increase long-term member retention.
Here are our 2023 Chamber Ambassadors and the chamber businesses they are associated with:
Laurie Bryson , Ambassador Chair, Balsam Falls Brewing
Steve Baxley, Ambassador Vice Chair, Baxley's Chocolates
Marne Harris, Ambassador Secretary, SCC Small Business Center
Chelsea Allman, Sylva Insurance Agency
Patrick Dowling, First Citizens Bank
Chad Gerrety, WCU Athletics 
John Hagdorn, Highlander Self Storage
Natalie Newman, Natalie Nicole Boutique + Salon
Matt Saenger, BalsamWest
Megan Orr-Sheets, Nightstar Lodging
Ina Sams, N.C. Mountain Real Estate
Michele Smith, Smith and Morgan Law
Patricia Stanberry, Apple Realty
Chris Stuckey, WestBridge Vocational, Inc.
Karson Walston, The Bug Lads
Patricia Bryson-Wink, State Farm Insurance
Brett Woods, Southwestern Community College
Here is our 2023 Board of Directors:
Chad Gerrety, Chair
Rusty Ellis, Vice Chair
Trenia Sims, Treasurer
Rich Anderson
Erica Bullock
Dale Collins
Jon Henson
Sharon Montague
Miriam Oaks
Nicole Owen
Bobby Richardson
Joel Sowers
Brett Woods
The Chamber Board of Directors conducts board meetings via Zoom, typically on the 4th Thursday of most months. If you would like to be added to the agenda, please contact Julie@nc-mountains.com at least 15 days in advance.