Cashiers, Dillsboro and Sylva are Jackson County's commercial centers, but small shops and boutiques can be found in almost every community. Fine arts  and crafts are an area mainstay, and antiques aren't far behind.
Twice a year, the chamber sponsors a "Friends Night Out" event, where we encourage folks to gather and shop to support our local businesses and have some fun with friends.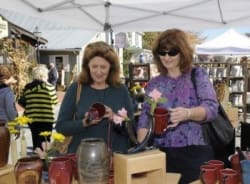 Dillsboro, a small, walkable town of about 50 businesses, is a center for fine, locally made arts and crafts. Potters, jewelers and quilters are among the many talented artisans to be found.
Sylva, the county seat, couples historic ambiance with Main Street appeal. Known for its unique restaurants and breweries, Sylva's picturesque downtown also offers an interesting blend of shops, outfitters, book stores and clothing boutiques.
Cashiers' wooded informal shopping district is tied together with a walking trail. Antiques are Cashiers' strong suit, and specialty shops and outfitters are also easy to find.